Puff Stitch Dress. Good morning dear and faithful readers and friends how are you? I hope from the bottom of my heart that everyone is very well and happy and ready to start another week full of success and very, very beautiful crochet, isn't it? I want to say that I'm very excited to say that I'm bringing you a new pattern that's been much sought after by all of you, the Puff Stitch Dress Pattern.
Puff Stitch Dress, we all know that our babies grow very fast and in the blink of an eye they are crawling and soon walking, my god this is really fast isn't it? And it's difficult for us as mothers to keep up with all this and be able to make clothes for them, because our crochet takes time and our babies don't wait, they become children so fast that the perfect time to start making a dress is right in the start.
Our Handmande Easy Patterns team separated this very special pattern for you and I believe it will be able to please everyone, we leave a well explained material with PDF and very explanatory images that none, I repeat, none of you will have difficulty executing it. I myself looked through all the material several times before we published it and I can assure you that everyone will love what we have prepared.
Having a daughter is one of the cutest things and it's really nice to be able to make amazing dress patterns for them. This Puff Stitch Dress Pattern is perfect to enhance the sweetness of a girl, a very versatile and beautiful dress and not to mention that it allows you to use various color combinations without losing your style. A very basic pattern that will please every mother or whoever wants to gift a beautiful girl with this dress.
Puff Stitch Dress, is considered an intermediate pattern, but my dear needle friends don't worry, our team prepared everything so that everyone can develop in the best possible way. The pattern is well described and a video tutorial is also included, so none of you will get lost when making this dress, and I didn't mention it here but this dress can be adjusted, look how cool! That's right, it can be easily adjusted at the waist through the placement of buttons.
Puff Stitch Dress, is so versatile that it can be done with several color combinations, in addition to being possible to be done in a single color, but of course for friends who are crazy about crochet like me, we know it will look great more beautiful when we mix the colors and make several combinations.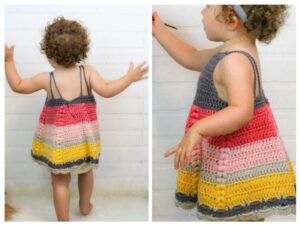 The pattern we are making available to you is available in 3 sizes: 12 months, 18 months and 24 months. Besides of course as I already mentioned that it can be adjusted at the waist through the placement of buttons, this is fantastic isn't it? So my colleagues, let's start today, already separate your material and let's go to work, because our beautiful girls are growing up.
Access the free pattern/ Puff Stitch Dress Pattern
And my friends and readers if you liked this pattern I have separated some for you that you will surely love, they are all easy to make and please.
The Handmade Easy Patterns team is very happy with your faithful presence and wishes you all another week with many achievements and full of love and peace and beautiful patterns for your entertainment, full of beautiful yarns and above all a lot of creativity and a lot of enthusiasm.
With love and affection, Handmade Easy Patterns!