Gourd and Small Pumpkin. Good morning, dear readers of the Handmade Easy Patterns blog, how are you? I hope you are well and full of energy for another month that begins, I'm very happy to be here talking about another pattern with you and very excited. You know how our blog is always innovating and bringing you the most beautiful patterns.
Gourd and Small Pumpkin, today we're going to bring this pattern that I dare say is the most different we've ever brought here on the blog, this time it won't be dresses or blankets, but let's talk about crochet decoration. That's right what you just read, decoration made entirely in crochet, and to start I can already say that this pattern is perfect in any kitchen of a woman who loves crochet, I say it's perfect because it should be mandatory in any kitchen.
Gourd and Small Pumpkin. It's perfect for fall decor and here's a tip, use scrap yarn with these fun and free patterns we prepared for you. Here below you will find the complete pattern and many illustrative photos to make these beautiful crochet patterns, and you will also find all the materials, stitches, gauge and size information.
Gourd and Small Pumpkin. Decorating for autumn or even any time of year will be a lot of fun with this pattern that we are bringing you, and besides being easy it will be very cheap because the list of materials is minimal, and taking advantage of the fact that today I am giving you several tips here go one more. You can crochet these little creations around the house for a more festive fall vibe.
Our Handmade Easy Patterns team has separated four crochet patterns that will be described below. The crochet squash and the winter squash have two different sizes and believe me my friends there are up to 3 ways to make them and thus make them all look unique. I'm sure you'll all love these patterns and I'm really excited to bring them here for you, so when you have your patterns ready send us pictures to put in our gallery and facebook page.
Gourd and Small Pumpkin. If you have any doubts about which colors to use in the patterns, you can be inspired by the images, but of course I know that you have a very high level of creativity, so I know that you will choose beautiful and glamorous colors to leave the Gourd and Small Pumpkin more beautiful. Don't be afraid to take risks or make mistakes because that's how we learn to crochet, in an attempt.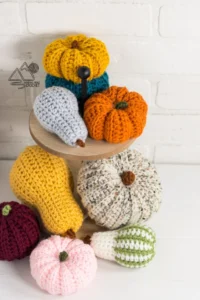 Crochet Gourd and Small Pumpkin. It's a simple to intermediate level decoration pattern and I think none of you will have a problem executing them, after all, all the images and videos that we separate are easy to understand so you won't be wrong, you can try this beautiful pattern without fear and let's go there.
Access the free pattern/Gourd and Small Pumpkin
And if you liked and identified with this pattern, I believe you will love the one I separated for you.
Yawn the Sheep Snuggle Sack
Heather's Crochet Scarf
Chevron Blanket
The Handmade Easy Patternsteam wishes you all another week with many achievements and beautiful patterns for your entertainment, full of beautiful yarns and above all a lot of creativity and a lot of enthusiasm.
With love and affection, Handmade Easy Patterns!